Double Finalist for National Prize in Music Composition
---
Abramovic Performs Fourth Piano Sonata in Curtis Solo Recital
In a piano recital featuring new works, Dr. Charles Abramovic will perform my Fourth Piano Sonata in August 2018 at the Curtis Institute of Music. This will be the work's Philadelphia premiere. It was premiered on the west coast by me at the Hunter School of Music and the Trianon Theatre--both in San Jose.

Abramovic will also perform my Two Berlin Preludes at the Greenwich Music House, New York City, ​April 8, 2018, in a program entitled, "Las americas en concertos": contemporary music from US, Latin America, and South America.

As a 6-year student of Charles Abramovic at Temple University, it is truly a great honor to hear him perform my works! I very much look forward to these performances!
---
Recording the Five Tuba Works
Ciach and Carlson record Ciach's five tuba works commissioned by Carlson in June 2018 in Grand Rapids, Michigan. Listen to the live recordings of Mountain Song, Dance King, California Ballad, Kentucky Folk Pieces, and Night Song
here
. (Above images: rehearsing California Ballad and Kentucky Folk Pieces for the 2016 ITEC at the University of Tennessee, Knoxville.)
---
Chaconne at the 2018 Hot Air Music Festival
Cellist, Nicholas Denton-Protsack performs Ciach's Chaconne for cello and prerecorded electronic music at the Hot Air Music Festival at the San Francisco Conservatory of Music on February 25, 2018.
---
Charles Abramovic Commissions Ciach's Fifth Piano Sonata
---
New violin solo work for Maggie Dziekonski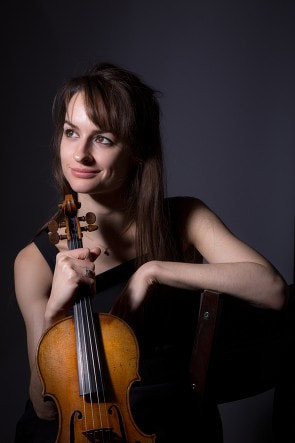 ---
Double Commission: Stephanie Rea, flute, and Kurt Gorman, trumpet, Commission Two New Works
| | |
| --- | --- |
| Dr. Stephanie Rea, flute professor at Murray State University, and Dr. Kurt Gorman, trumpet professor at the University of Tennessee at Martin, have commissioned two new chamber works for trumpet and piano, and flute, trumpet, and piano, to be performed in California with Ciach during the 2018-19 season. Dr. Rea will also perform Kentucky Folk Pieces (2013) for flute and piano with Ciach (date and venue TBA). | |