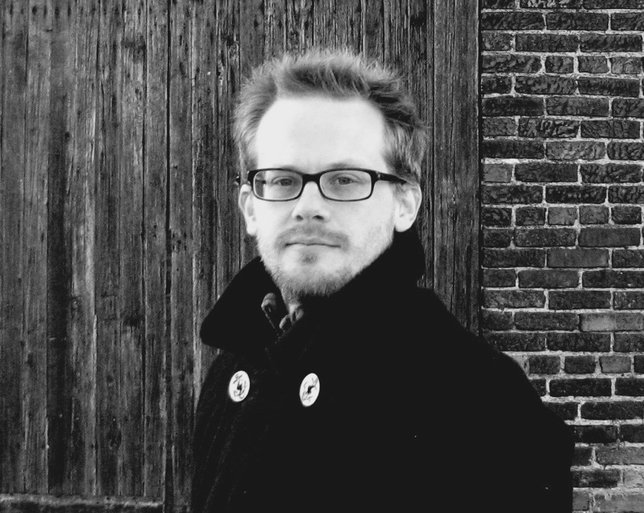 Brian Ciach (pronounced "SIGH-ack", born 1977) is a composer, new music pianist, and instructor in the San Francisco Bay Area, whose music has been described as "remarkably inventive" (
Herald Times
) and "beautifully scored"
(
New Music Box
). Dr. Ciach's music is evocative and attractive in its imagery, often using intrepid instrumentation and imaginative formal concepts woven from a free and accessible tonal language. He has written a
Vegetable Requiem
(2012) for
hand-made vegetable ocarinas
(commissioned by the percussion quartet, Round Peg Square Hole), a
Second Piano Sonata
(2007) that runs out of notes, and
Road Trip
(2010) for soprano and chamber orchestra, presenting original poetry set in two ways, as if written by two different composers.
Collective Uncommon: Seven Orchestral Studies on Medical Oddities
(2012), his
Indiana University
dissertation inspired by curiosities found in the
Mütter museum
, received this review after a performance by the
Minnesota Orchestra
:
"Brian Ciach was the composer most intent upon letting his imagination run wild all over the music (hence the cabbages and dolls), but he also had the strongest sense of how to create layers of sounds" (Pioneer Press).
He is an On-Call Instructor of Music Theory at
Santa Clara University
, is the Assistant Director and Instructor of Music (Piano, Piano Improvisation, Music Theory, and Composition) at the
Hunter School of Music
(San Jose, California), and a Music Engraver for the
Subito Music Corporation
. His compositions are published by
Potenza Music
.
---
Brian Ciach
's music has been performed across Europe and the United States. Recent international premieres of commissioned works include
Rorate Caeli
for SATB a cappella chorus, performed in
Vienna
by
Chorus Delicti Wein
(Vivian Ip, director)
and
Kentucky Folk Pieces
for flute and piano performed in
St. Martin-in-the-Fields Church
in
London
and the
National Concert Hall
in
Dublin
by
Linda Chatterton, flute,
and
Matthew McCright, piano
.
Chaconne
for amplified cello and electronic music was performed by
Roger Lebow
at the
2014 Ussachevsky Memorial Festival of Electroacoustic Music
at
Pomona College
in
Claremont, California
. In 2012,
Brian Ciach
was a participant in the
Minnesota Orchestra Composer Institute
, which led to that orchestra's performance of
Collective Uncommon: Seven Orchestral Studies on Medical Oddities
.
Aaron Jay Kernis
,
Minnesota Orchestra Composer Institute
Founder and former Artistic Director, has said:
"Brian Ciach's Collective Uncommon was one of the hits of this year's Future Classics concert with the Minnesota Orchestra. I hear it as a 21st-century take on Sweeney Todd's Pictures at an Exhibition. Brian's music is quirky, wry and possessed with both good humor and a gleeful objectivity about the absurd. His work is beautifully scored, always clear and full of arresting sounds and images, held together by intuitive dramatic plans that draw the listener in."
Brian Ciach
was a participant in the
2012 Mizzou New Music Summer Festival
, where
Alarm Will Sound
premiered
The Einstein Slide
(2012, an addendum to
Collective Uncommon
), a piece inspired by a
medical slide of Albert Einstein's brain
recently acquired by the
Mütter Museum
.
Brian Ciach
's
Second Piano Sonata
has received both national and international recognition, winning the
2008 National Federation of Music Clubs Emil and Ruth Beyer Composition Award
and the
2011 American Liszt Society's Bicentennial Composition Competition
, leading to a performance of this sonata by Murray State colleague,
Matthew Gianforte
, at the
American Liszt Society's Bicentennial Conference
. Also a composer of electronic music, his work
Waterclocks
was selected for a performance at the
2009 SEAMUS (Society for Electroacoustic Music in the United States) National Conference
.
Brian
was the
2012 Subito Music Corporation Inaugural Composer Fellow
, which involved practical and valuable composer training with a music publishing company. In 2015, Brian engraved Act II, Scene II of George Gershwin's Porgy and Bess for a new critical edition published by Subito Music.
Dedicated to new music,
Brian Ciach
has performed as pianist in various concert halls in the US, including
Carnegie Hall
. He has performed and recorded all of his works for piano, premiered
Bells
for piano and iPod
at
Temple University
by
Paul Geissinger
, premiered a
piano trio
by
Maurice Wright
in Carnegie Hall, and recorded a
CD of new chamber works
by
Emiliano Pardo-Tristán
. Recently,
Ciach
released his
Fourth Piano Sonata EP
and
Third Piano Sonata Album on iTunes
(the
live recording
of his Third Sonata recital at Murray State University can be found
here
; the Fourth Sonata video can be found
here
).
Dr. Ciach
's
Master's Piano Recital at Temple University
included a from-memory performance of
J.S. Bach's Fifth Partita in G Major
,
Schoenberg's Suite for Piano
, Op. 25, and
Richard Wernick
's
Piano Sonata No. 1
, which received the following review:
"The composer, who was present and who received a warm ovation at the end of the performance, was astonished to see Ciach come on stage to play his piece without any sign of a score in evidence–"Surely he's not going to play it from memory!", he exclaimed. That, however, is exactly what Ciach did–triumphantly, for though I have heard the sonata played superbly both by Lambert Orkis (another Temple faculty member), for whom it and Wernick's recent Second Sonata were written, and by the Australian-born Geoffrey Douglas Madge, I found Ciach's realization fully worthy to stand on equal terms with those two eminent pianists' readings" (S&H International).
​ In 2011, Brian earned a doctorate in music composition from the Indiana University Jacobs School of Music, where he also studied music theory and electronic music. He was the recipient of two Dean's Prizes in music composition at IU in 2009 and 2010 for
Mölna Elegy
and
his orchestral dissertation,
Collective Uncommon: Seven Orchestral Studies on Medical Oddities
. He also received the Presser Music Award at IU in 2008, which funded travel to the premieres of two of his compositions in Berlin, Germany and Pavia, Italy. He studied composition with
P.Q. Phan
,
Claude Baker
,
Don Freund
,
John Gibson
(electro-acoustic),
Jeffrey Hass
(electro-acoustic), and
Sven-David Sandström
at Indiana University. Additional studies were with
Samuel Adler
in the Music Composition Course at the Freie Universität Berlin in the summers of 2008 and 2009. Brian studied privately with Pulitzer Prize-winning composer,
Richard Wernick
from 2004 to 2006. Ciach has two concurrent Master's degrees in piano performance and composition and a Bachelor's degree in piano performance from Temple University, where he studied piano with
Charles Abramovic
,
Lambert Orkis
,
Harvey Wedeen
, and
Ignat Solzhenitsyn
, and composition with
Maurice Wright
,
Matthew Greenbaum
, and
Richard Brodhead
.
Since 2002, Dr. Ciach has enjoyed teaching a variety of courses in music theory, composition, aural skills, piano, piano improvisation, and electronic music at Murray State University, Ball State University, Indiana University, West Chester University, and Temple University, among others. For more information, visit his
Teaching Philosophy Page
.
​ Dr. Ciach is an active piano improviser, and in 2012 released the SoundCloud album,
Doppelgänger
, which features electronically processed "twins" of improvised material. Ciach also loves to cook, and can usually be found in the kitchen creating new dishes for friends (see his
Chez Ciach cooking blog
for more information). ​