How I Write Music:
​Pre-Compositional Conceptions, Material-Directed Paths
My music is often generated from conceptual or formal ideas that precede the surface material of the work. Road Trip (2010) for soprano and chamber orchestra, presents original poetry set in two ways, as if written by two different composers. The first setting of each song is in English with one type of music. A contrasting musical setting follows in the language of the city in which the poem is about. For example, the second song about Berlin, "Checkpoint Charlie" is set one way in English, then the German translation, is set in quite a different musical way.
---
One song, two settings
---
English setting:

Road Trip, II. Checkpoint Charlie English text:

Checkpoint Charlie is selling pieces of the Berlin wall
​inside postcards for 5 Euro.
​Younger friends might not know,
This little piece of graffiti enrobed the city,
Hanged, drawn-and-quartered.
Protection against the toys of the West...
No one in the East intended to build it,
Though it calcified some who could never leave,
And murdered some who tried.

German setting:

Road Trip, II. Checkpoint Charlie
​German text:

Checkpoint Charlie verkauft Mauerreste
in Postkarten für 5,- Euro.
Die Jüngeren unter uns wissen vielleicht nicht,
dass dieses kleine Stück Graffiti einst die Stadt umschloss,
hängte, streckte und vierteilte.
Schutzwall gegen das Spielzeug des Westens...
Niemand im Osten hat die Absicht eine Mauer zu bauen
obwohl sie die jenigen verkalkte die niemals fort konnten
und jene ermordete die es versuchten.
---
​ In conceptualizing Collective Uncommon: Seven Orchestral Studies on Medical Oddities (2012), my Indiana University dissertation inspired by curiosities found in the Mütter museum, I spent a considerable amount pre-compositional time deciding how to explicitly evoke the subjects. How could I depict a 9-foot colon?; Shrunken heads?; A medical slide of Albert Einstein's brain tissue? Amplified ripped-open cabbages and amplified, stirred mac-and-cheese performed by percussionists evoke the squelching, overgrown colon. Amplified "Tickle Me Elmo" voice boxes characterize demonic laughter of shrunken heads. And, the music of Einstein's brain is decoded from a puzzle canon. In this case, each subject inspired an instrumentation which I never would have previously imagined.
---
Three Allegorical Orchestrations
---
The Food Instruments (amplified mac and cheese and cabbages):
Einstein's Musical Equation, a Puzzle Canon:
The Talking Dolls (three "Tickle-Me-Elmo" dolls):
Often, the concepts behind the works tend to happen as the music unfolds; the material dictates its own musical direction. The toccata-like second movement of my Second Piano Sonata (2007) reaches a climax where marcato notes run off of the piano. This pattern is continued onto the wood block in the form of knocking. In this case, the extended technique was a byproduct of allowing the music to be taken to extremes. The "palindromic sonata form" of my recent Fourth Piano Sonata (2015), where the second theme recapitulates before the first theme, was discovered during the course of composition.
---
New Techniques
---
End Block Knocking and Slapping in the Second Sonata: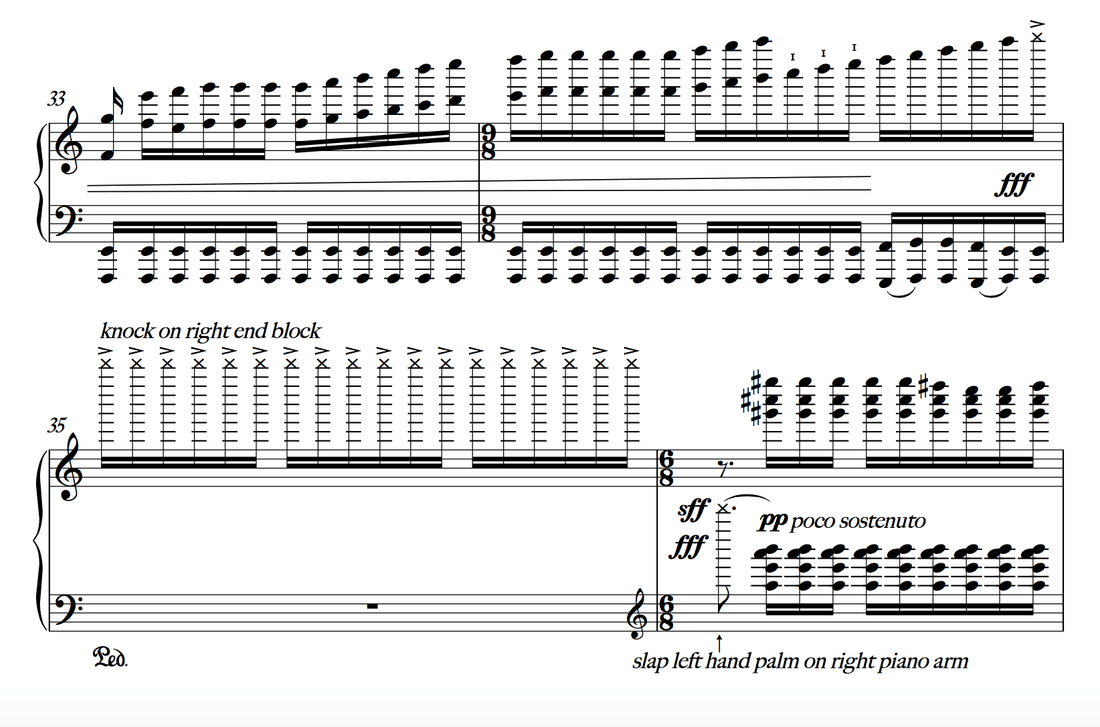 Click to hear these extended techniques (end block knocking and slapping) from the Second Piano Sonata
Stopped String Slide in the Fourth Sonata:
Sometimes, musical concepts are commissioned. Blank Slate (2012), a work made up of entirely "found" percussion, was conceptualized and commissioned by Square Peg Round Hole percussion quartet. They said, "write us a piece using only 'found' instruments." Empty bottles are blown into, candy wrappers are crinkled, paper is ripped, wood is sawed, and huge, industrial trash cans are beaten, among other things. The Vegetable Requiem from this work is written for hand-made vegetable ocarinas. While there is an extra step of drilling holes in large horseradish root, carrots, radishes, and sweet potatoes to form ocarinas, the sounds and the manner in which these sounds are produced is a sight to see. In short, my craft involves a solid pre-compositional vision, yet I remain sensitive to the needs of the musical material—or the unusual subject matter or commission—and allow the music to follow its own path, even if that path conflicts with the original formal conception.
---
More Food Instruments:
Vegetable Ocarinas of The Vegetable Requiem
---